CBD Oil
All of our CBD products are made using IPA extraction of the whole plant, this means they are chemical free.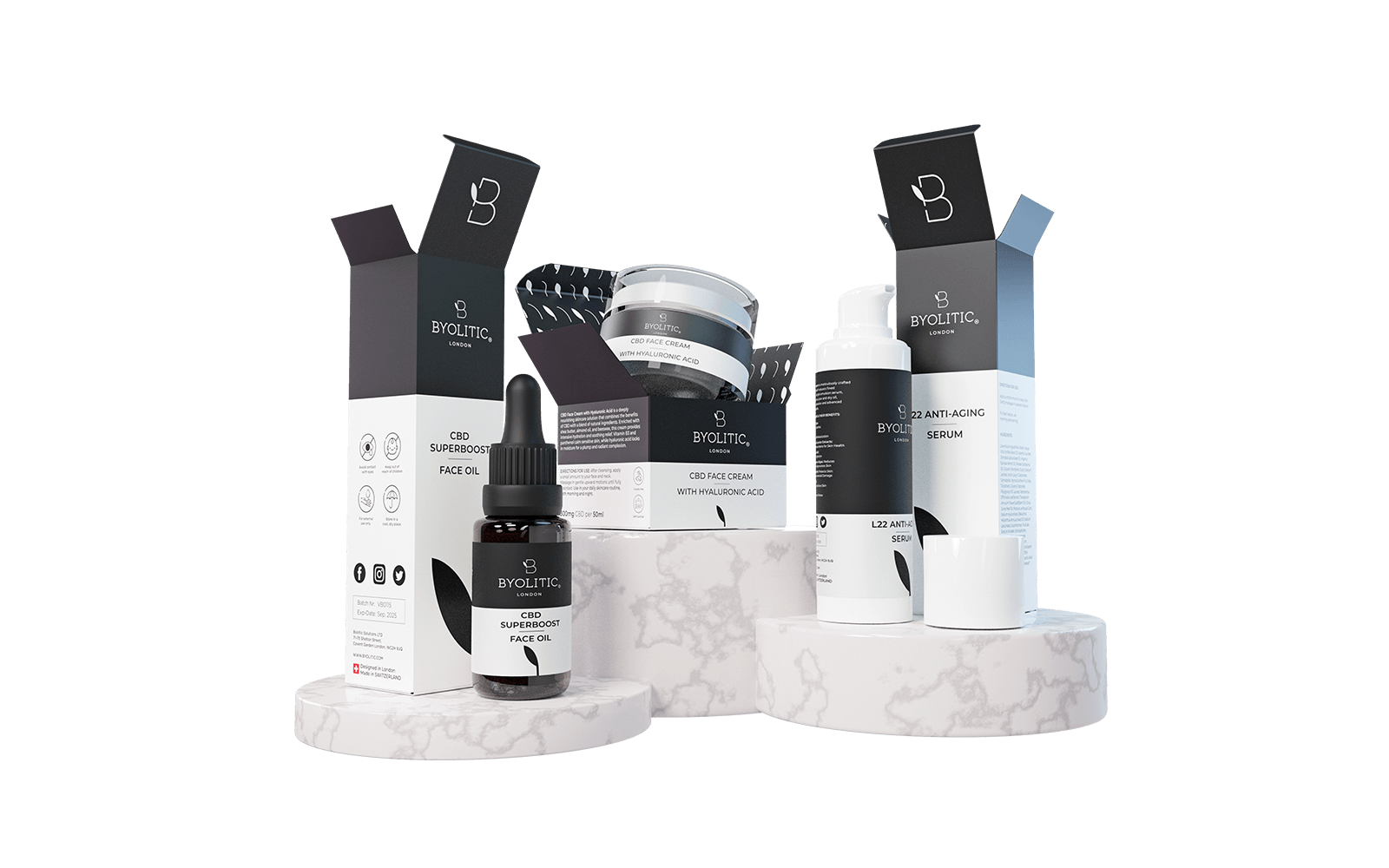 CBD Creams and Balms
The main benefits of CBD creams include acne relief, skin hydration, inflammation and redness reduction.
---
What is CBD?
Cannabidiol (CBD) is a chemical compound derived from the hemp plant. Unlike other significant ingredients, CBD is not psychoactive.
CBD has shown promise as a potential treatment for people suffering from anxiety and depression, helping people live healthier and more balanced lives naturally.
Many studies on CBD indicate that it helps reduce chronic pain by directly impacting endocannabinoid receptor activity, decreasing inflammation, and interacting with neurotransmitters.
What are CBD Products?
CBD products are products that contain cannabidiol (CBD) as an active ingredient. CBD products are manufactured in such a way that they contain only negligible traces of THC (tetrahydrocannabinol), i.e. below the legal limit of 0.2% THC.
Byolitic positions itself at the center of innovation in the CBD industry in UK, therefore offering cbd products in different forms, from oils to creams, and in the future we will produce many more products.
…On the other hand, our oils contain isolated CBD that provides the benefits on its own without the involvement of different compounds, making them easier to add to your favorite drink.
What is CBD good for?
CBD can be used as an alternative treatment for various conditions.
CBD products are currently very popular and increasingly used, being tried by thousands of people who have benefited from their properties.
People who are currently using CBD products claim that it effectively helps them feel calmer and more relaxed – generally improving their daily routine.
Why is it worth buying CBD products?
There are many reasons to buy CBD products, but it's important to keep in mind that each person has individual experiences and needs. Here are some reasons why many people choose to buy CBD products:
Health Benefits: CBD has been associated with numerous health benefits, including anti-inflammatory, analgesic, anticonvulsant, anxiolytic, and neuroprotective properties. Thus, CBD products can be useful for pain relief, inflammation reduction, anxiety management and general relaxation.

…

Alternative treatment: For some people, CBD products represent a more natural or alternative option compared to traditional pharmaceutical drugs. CBD is a natural compound that does not produce psychoactive effects, making it an attractive choice for many.

Easy-to-use products: There is a wide range of CBD products available, such as sublingual oils, creams, capsules, chewing gum and more. This provides options for various usage preferences and specific needs.

Relief of skin conditions: Topical CBD products, such as creams and ointments, are beneficial for the relief of inflammatory skin conditions or muscle pain, as well as for skin hydration and care.

Ongoing studies and research: CBD has attracted the attention of the scientific community, and research into its therapeutic potential continues to evolve. This fact means that there is a chance that new benefits and uses of CBD will be discovered in the future.

Legality and availability: Hemp-derived CBD is legal in many countries and is increasingly available in health stores, pharmacies and online, making access to CBD products easier.

The company Byolitic offers the highest quality CBD products in UK.
Many of our customers have already been able to evaluate how powerful the drops are and how quickly they start to work on the mind and body.

Everything our company sells is made from high-quality hemp and the products have been tested in the laboratory, which guarantees the safety of customers.

 

Read More…